React Native is the most responsive framework that has completely changed the mobile application development industry. This framework has gained renewed popularity among startups as well as industry giants.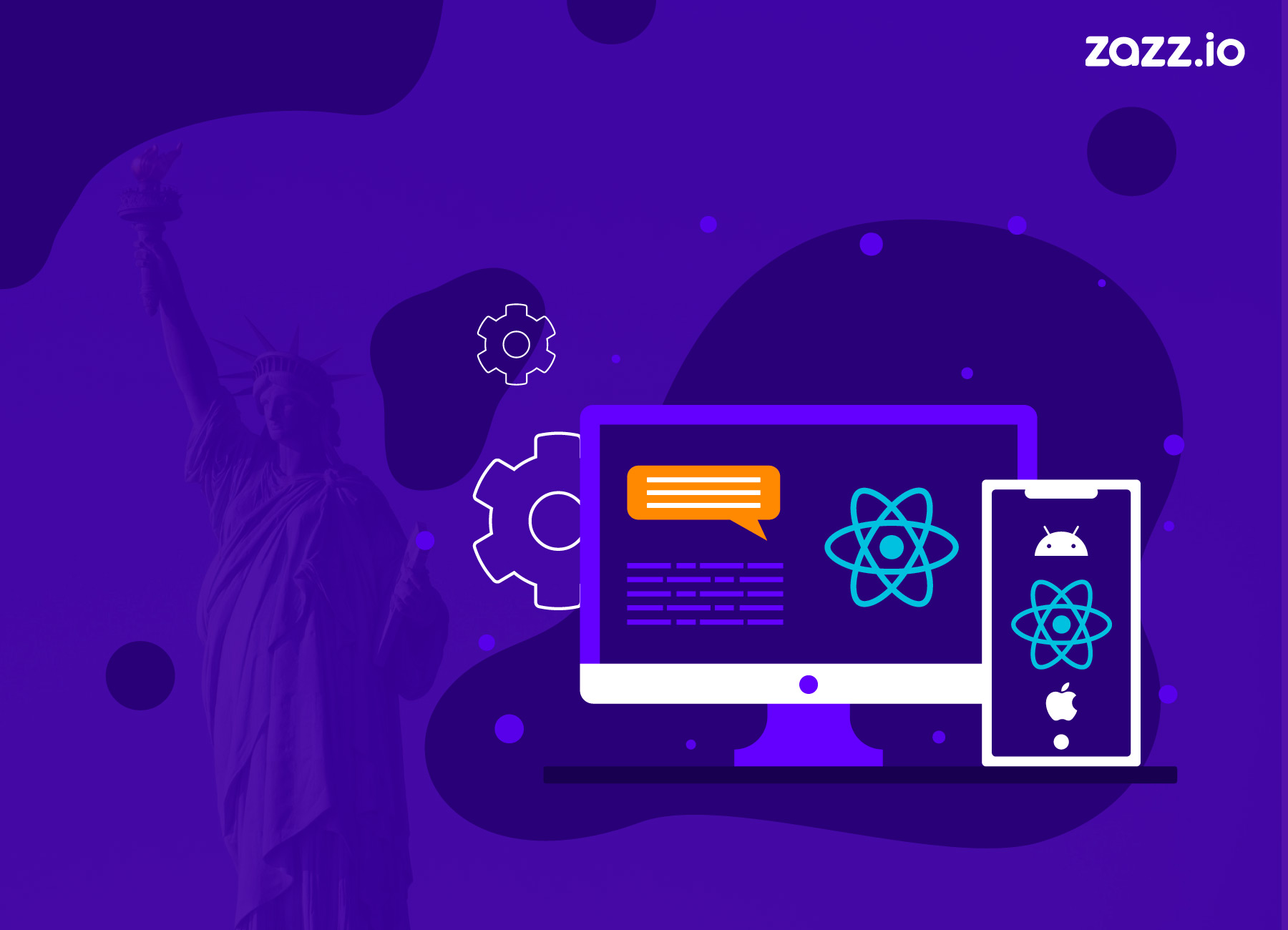 In this blog post, we have listed the top 10 best react native development companies in USA & provide scalable and fast responsive mobile apps for businesses working across several sectors.
List of Top 10 React Native App Development Companies in USA
Here, in this segment, we will disclose the list of best react native app development companies. So, check out the latest reviews in 2020-2021.
Zazz is a React Native Application Development Company in USA. The company is known for providing excellent mobile and web applications for businesses of all sizes. The company has 10+ years of experience providing quality development services to clients around the world. Moreover, it claims to rule the Original empire with a client-centric and feature-centric mobile app.
AppStudio is a specialized software development company that has expertise in various technologies. Leveraging high technology with React Native, they help clients get high-performance to react native apps. It includes services like- React Native Customization Services, React Native Development, React Native UI / UX App Development, and React Native Consulting.
Full Stack Labs specializes in development with Ruby, Python, JavaScript technology to create web/custom / mobile solutions. React Native is a JavaScript framework that is Full Stack Labs
used in the creation of cross-platform mobile applications. The company offers mobile development of native iOS and Android applications and responsive web applications.
PSL Corp is known for excellence & excellence in offering great mobile applications across multiple domains. It ranges from offering mobile consulting to mobile app design and development services. It is known for having a proven pathway for creating complex and most important Android and iOS applications with the latest technologies such as React Native and many more.
WillowTree ranks among the best React Native Development companies in the US. However, they have grown into a team of 50+ employees. Together with React Native, the company is also working on other new technologies such as robotics, augmented reality, and virtual reality and mobile games, to find solutions to tough client challenges.
Mindgrub Technologies is one of the top US-based React Native Development Companies focused on making every mobile app development project a win. However, the company states, React Native makes it easy to achieve outstanding performance and portability. With React Native, you can create mobile web apps, HTML5 apps, or hybrid apps, but real mobile apps.
The BHW Group offers its clients the best in React Native development services. The company makes the most reliable React Native applications for various verticals like e-commerce, healthcare, travel, etc. With services like React Native Android App, React Native iOS App, React Native Customization Service, it has become one of the earliest adopters of React Native.
Mojo Tech is one of the best React Native Development Companies. The Experienced React Native Development Team believes that React Native can handle multiple platforms elegantly. Additionally, the team likes to use React Native to develop mobile applications for the Android and iOS platforms. They have a diverse team of developers with broad expertise and a focus on React Native.
LITSLINK is a renowned React native app development company in USA delivering successful mobile applications using this innovation. Their involvement with this innovation has been satisfying for more than a year, and they continue to work on React Native projects so they can continue to provide the best apps to customers.
PromptWorks is a leading React Native application development company with exceptional experience in developing special applications using the native React framework. They have experienced React Native application developers dedicated to offering cutting-edge solutions with a progressive programming level. With a significant focus on delivering React Native applications, which is highly responsive, it has many clients.
Why Should You Choose React Native App Development?
Today, applications have become an integral part of our digital life. We properly use applications for many purposes. This scenario has driven more and more companies to jump into application development. Developing native apps for multiple platforms is an expensive proposition, and app developers are looking for cost and time-effective ways to build Android and iOS app development for businesses.
React Native is a reasonably popular framework among cross-platform app developers. React Native's ability to give app developers the power of iOS & Android app development in an excellent way.
What's New to Expect from React Native in 2021?
Asynchronous Rendering Capability: This capability will be applied to provide multiple rendering priorities and simplify asynchronous data processing.
New Threading Model: Currently, each user interface update must work on three different threads, but after an update, JavaScript can be invoked synchronously on any thread. Simultaneously, the response speed will be supported, and the main thread's low priority jobs will be maintained.
Simplified Bridge: this will expand to improve the efficiency of direct calls between Native and JavaScript and simplify the creation of various tools. It's also worth noting that despite all the innovations, the existing React Native app will remain fully functional without any changes.
Concluding Thoughts
Above here, we curated the list of top react native development companies in USA. You can choose one of them depending on the requirements of your business. If you want to add React Native charm to your app development services, you can immediately hire our application developer and start your work. For more information, you can contact us to get a free quote.
Also Read Our Popular React Native Posts
React Native For Innovative Mobile Apps For Next-Gen Connected Cars
Top Mobile App Development Companies in San Francisco
Top 10 React Native App Development Companies in San Francisco
Top 10 React Native App Development Companies In The New York
Is React Native Really The future of Mobile App Development in 2021?
Benefits of Developing a PWA Using React Native in 2021
What Is React Native Deep Linking For Mobile Apps?